HEROES CONVENTION 2006 - REPORT
I'm sorry that this report is so delayed, but it seems like whenever I take some time off work it takes me just as much time when I get back to get caught up. Anyways, I'm back and almost completely recovered. I've been to the Heroes Convention in Charlotte five or six times now, but this year was the first time that I got to go for two full days of the con. It seems like each year the con gets bigger and bigger, and even with two days I felt like I didn't get to see and do everything that I wanted to. I spent way too much money but felt like I didn't really do all that much shopping. I did however get signatures from a lot of great creators, attend a number of interesting panels, and I got to meet Peter Rios from the greatest podcast on earth, Comic Geek Speak.

You've probably read other reports and seen the news from the con, and I have to reiterate that Heroes Con is a great convention. The highlights for me were the Warren Ellis panel hosted by The Beat's Heidi MacDonald, the J. Michael Straczynski panel, the DC Comics 52 panel, and getting to meet Warren Ellis and Greg Rucka.

I got a couple of cool sketches in my sketch book again this year. I added another Michael Avon Oeming sketch to my collection. Check out this cool Beta Ray Bill sketch he did for me...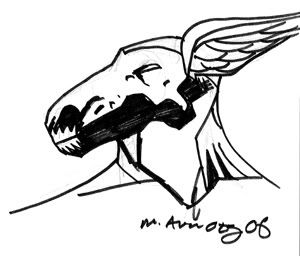 I also got another sketch from Georges Jeanty. He did an awesome Gambit sketch for me last year. Since I read that he was going to be drawing the upcoming Joss Whedon written Buffy comic, I got him to do Buffy. He said that he hadn't gotten into drawing the comic yet, so this may be one of his very first sketches of the character.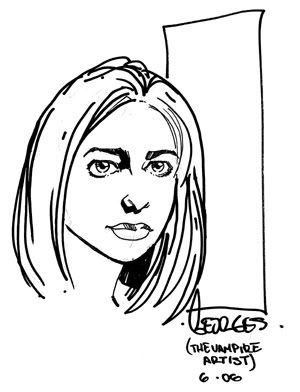 As far as my purchases go, I picked up two t-shirts (the Comic Geek Speak convention tour t-shirt and the Heroes Con 2006 t-shirt featuring Captain America drawn by Travis Charest), three sketchbooks by Cully Hamner, J.G. Jones and Mike Wieringo, two trades at half price (High Roads and Marvel Knights 4 Vol. 1), and Modern Masters: Arthur Adams and Modern Masters: George Perez from TwoMorrows Publishing. I was able to get Perez to sign his, but unfortunately Adams' line was always a mile long.

Again, Heroes Con is a great convention. If you ever get a chance, you have to make the trip. Next year is the 25th Anniversary of the con, and I expect that it may be even bigger than this years.